I'm starting out this blog with a rant…  I'm officially tired of winter!
As I see real estate signs of some of my wealthier neighbors pop up this winter (which is unusual because Spring it the house selling season), I have to wonder if they are headed down south to better warmer climates.  This year, that seems like a great idea!
Perhaps you'll warm up to some of these great articles below…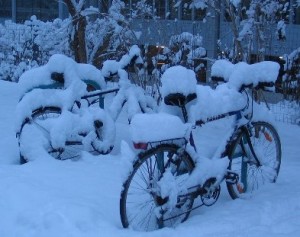 Roger the Amateur Financier @ The Amateur Financier writes Fun Olympic Facts for Friday – A short list of some interesting and fun facts related to the Olympics and the Sochi Olympics in particular, to start the games off right.
Jacob @ AllPersonalFinance writes Bogged Down With Debt? 5 Ways to Know If Bankruptcy Is Your Best Option – Debt has crippled the millions of lives in America. When you are in debt, it becomes harder to save for the future, start a family or buy a house. If you are in debt, how do you know if bankruptcy is the right option for you?
Eva Baker @ TeensGotCents writes An Interview With Jeff Rose of Good Financial Cents! – Finally got up my second video interview! This is an interview with Jeff Rose of Good Financial Cents, he shares about his super cool part time job plus…
Mike @ Personal Finance Journey writes What are your Long term Investment strategies to beat inflation? – Do you have a secret stash of ideas to invest and beat long term inflation? If not here are some of the great ideas we can suggest to beat inflation!
JP @ My Family Finances writes Scam Prevention Tips for Seniors – Unfortunately, there are people out there who try to scam senior citizens out of money.
Cat Alford @ Budget Blonde writes What is Credit Card Churning? – You've been asking me, "What is Credit Card Churning?" so here are all the details including tips on whether or not it's for you.
Maria @ The Money Principle writes Tips for first time buyers – Last week I wrote about UK housing issues following a meeting to which I was invited. A panel of experts spoke about housing with particular focus on the problems facing first time buyers. The panel was chaired by Sarah Smith from Channel 4 TV. Read more for great tips.
Bargain Babe @ BargainBabe.com writes 11 Frugal Easter Basket Ideas – 11 Frugal Easter Basket Ideas offers tips on saving money every day. Tell me what you think and if you find them useful.
Debt Guru @ Debt Free Blog writes Buying in Bulk: When It's Appropriate – Buying in bulk is a great way to save money, but it can be difficult to determine when it's appropriate to buy in bulk. Read for tips on bulk buying!
Mr. Frenzy @ Frenzied Finances writes Benefits of Investing in Gold over Land: It is easier to buy and sell gold over land – All investments follow the rules of supply and demand. The higher the supply, the higher the price of an item; consequently, the lower the demand is, the lower the price will be. Land is something people have been investing in for centuries.
Kyle @ The Penny Hoarder writes How to Save a Million Dollars Working Part-Time – So, here s the deal. All of that money-making crap you see on TV about no money down real estate, making millions with candle-stick stock trading, and free money from the government is essentially worthless.
Tony @ We Only Do This Once writes Seven Painless Ways To Save Money – People find it hard to save money. Here are 7 painless ways to do it.
Crystal @ Married (with Debt) writes Moving Beyond Money – Even if things are going well for you, I'll bet you think about money a great deal. I know I do. Here's how to move beyond money.
Crystal @ Budgeting in the Fun Stuff writes Cheap and Easy Home Security – A raccoon or some other nighttime creature scared the bejeezus out of me a couple of weeks ago.
Mrs. Accountability @ Out of Debt Again writes Just Because It's a Business Expense Doesn't Mean You Should Buy It – Some people who go into business for themselves do everything right from the start.
Dominique Brown @ YourFinancesSimplified writes Set Your 401k on Fire: Easy Tips to End Up with More – Right about now is when many people pull out their 401k statements and sigh in despair.
Lauren @ L Bee and the Money Tree writes What Holds You Back from Your Financial Goals? – If personal finance truly is simple, then why do so many struggle to meet financial goals? What is holding us back and preventing us from making progress?
Don @ MoneySmartGuides writes How To Become A Stock Market Millionaire – Do you want to become a stock market millionaire? I have outlined the entire process of becoming a stock market millionaire in this post.
Luke @ Learn Bonds writes These 2 High-Yielding Preferreds Are Worth Your Attention – Currently yielding 6.70% and 6.93%, these securities provide "real" yields and income predictability from two institutions that I have a hard time imagining would ever be allowed to fail.
Wayne @ Young Family Finance writes Lifestyle Check List: New Year, New Me – As expected with the tradition of New Year, many of us have set ourselves resolutions, all of which are designed to help improve our lives in some way. Most commonly we look at more aesthetic ways to better ourselves, we diet, exercise, clear out the wardrobe, and try to cut down on alcohol and cigarettes.
SBB @ Simple Budget Blog writes Debunking Your Budget Excuses – You have excuses for not tackling a budget. We have answers that can debunk them. Read here to get on the right track.
CAPI @ Creating a Passive Income writes Extra Help: The Dos and Don'ts of Hiring Your Next Employee – Need a little extra help? Maybe it's time to hire a new employee. Here are some dos and don'ts for adding a member to your team.
IMB @ Investing Money writes Investing in Cloud Storage Stocks – Cloud storage can be compared to storage boxes – it is also a potential money maker! Read here for information on investing in cloud storage stocks.
Ted Jenkin @ Your Smart Money Moves writes The Biggest Investment Mistake You Make Every Year – We all know that investments can be for short term, medium term, or long term.
Emily @ Evolving Personal Finance writes Internships and Other 'Experiences' – I'm working on a project to get more grad students to do internships or have other career-developing experiences. How have you benefited from such experiences?
Daniel @ Make Money Make Cents writes Understanding Budgeting Loans – If you are considered low-income and have a financial emergency, you may be able to borrow money from the government.
Oscar @ Money is the Root writes Should you be using Mint, the free online personal finance service? – One of the main points that we constantly try to make here on our blog is that everyone should have (and use) a budget to keep their spending in line and adequately fund their emergency, retirement and other savings accounts.
Amy @ Money Mishaps writes When talking about Debt, do the numbers matter? In a word, maybe… – Most of the words that characterize debt are relative, to say the least. Big, crushing, manageable and others give a relative idea about the amount of debt that an individual has but the question remains; what, exactly, constitutes a lot of debt?
Hadley @ Epic Finances writes Want to Contribute to your IRA for 2013? You Still Can! – 2013 has come and gone and now that we're in the new year many people think it's too late to put money into their retirement accounts and get the tax savings that they can bring.
Andrea @ So Over This writes Saving Money on Child Care! – Here is a question for those of you with children; did you know that if you pay a babysitter or other childcare professional over $1900 a year, you have to pay employer taxes as well?
Lily @ Paying Debt Down writes What are the best deals at your local Dollar Store? – Dollar stores are popping up like mushrooms all over the country and while they certainly are an excellent place to find good deals on a number of different things, they also happen to sell quite a bit of junk.
Bob @ Dwindling Debt writes Getting a Tax Lien off of your Credit Report – Part 2 of 2 – One of the most negative items that can appear on your credit report is a tax lien. The reason it is so bad is because it causes your credit scores to really take a drop.
Katie @ IRA Basics writes The Secret of Saving for Your First Deposit – Are you ready to become a homeowner and do not fancy a no-deposit home loan? Then the biggest obstacle standing in your way is the first deposit or down payment.
Charles @ Getting A Rich Life writes How We Reached A Million Before 40 – One reader questioned how we were able to grow our Net Worth significantly in 2013 despite not being much older than them. Was it from a large inheritance or because we had large salaries?
Sustainable PF @ Sustainable Personal Finance writes Would You Use an Alternative Currency? – One of the first rules of investing is that you need to have a degree of diversity in your assets. That way, if something goes wrong with one asset class, you will have another asset available to pick up the slack.
Jason @ The Money Makers writes Zimmerman Wins Lottery: A Prank, but What Are the Real Odds of Winning? – Satirical reports regarding George Zimmerman have been misconstrued as factual by several media outlets, which have led to the belief that the man who killed Trayvon Martin is now a multimillionaire due to a lucky lottery ticket.
Alexa @ Defeat Our Debt writes How to Get Rid of Debt on Your Own – There is no easy way to get rid of debt. You have several options, each come with their own set of pros and cons. Here is how to get rid of debt on your own.
Alexa @ Defeat Our Debt writes How to Get Rid of Debt on Your Own – There is no easy way to get rid of debt. You have several options, each come with their own set of pros and cons. Here is how to get rid of debt on your own.
Alexa @ Single Moms Income writes How to Start a Side Business in One Hour Per Day – If you have been wanting to start a side business but feel like you do not have enough time, you probably do.
Natalie @ Debt and the Girl writes Are We Spoiling our Kids on Finances? – I have a confession to make. I do not have kids. I know. Huge spoiler. That is not to say that I will not have them someday…way in the future.
Larry @ KrantCents writes The Problem with College! – The problem with college is not how much it costs or how long it takes! Many personal financial bloggers talk about the value of going into debt for an expensive private university.
Monica @ Monica On Money writes Free Valentine's Day Gifts, #7 Is My Favorite – Looking for frugal Valentine's Day gifts? Did you forget to budget for Valentine's Day this month?
David @ Financial Nerd writes 2014 Investor Almanac – A brief description and prediction of 2014 and its predicted success.
writing2reality @ Write Your Own Reality writes It Ain't Just Money – Goals for 2014 – After a successful year of passive income in 2013, I put together my 2014 goals for passive income and a bonus blogging traffic goal!
Gretchen @ Retired by 40! writes 4 Reasons Not To Buy A House – Home Ownership is the American Dream – or is it?
Christopher @ This That and The MBA writes Short Term Loans and How to Use Them to Your Advantage – Short term loans are considered secured while long-term loans are unsecured. A secured loan means paying lower interest rates while the latter would require you to surrender some assets, if in case you cannot pay the agreed amount indicated in the contract. This further results to higher interest rates and is considered unsecured.
Jeremy @ Modest Money writes Dealing With Financial Challenges – Read about how I plan to deal with some upcoming financial challenges. Instead of being stressed I'm confident I can easily tackle this situation.
Josh @ US News writes 5 Ways to Save Money and Eat Healthier – If you want to save money and eat healthier: Stop eating canned and frozen food, Consider the hidden costs of packaged food, Cut down on snack foods, Fight the fast food diet and consider your health an investment in itself. This will not only help your bottom line but also your waistline.
Mario @ Debt BLAG writes A penny saved is MORE than a penny earned (or why impulse spending is more expensive than you thought) – Impulse spending can be even worse for your budget than you think; here are three reasons why.
Skint in the City @ Skint in the City writes Lessons From theTooth Fairy – Turning the Tooth Fairy into a lesson on personal finance!
Little House @ Little House in the Valley writes Strategies for Paying Down Debt and Saving for Retirement – Obviously, having little to no debt frees up money needed to save, but both can be done simultaneously.
Miss T. @ Prairie Eco Thrifter writes I'm Not Going to My Best Friend's Bachelorette Party – Let me say this, ALL "OBLIGATIONS" ARE A CHOICE. You are the one who decides whether or not something is an obligation. Yes, there are societal, cultural, and peer expectations and pressures, but at the end of the day, the decision is yours.
Harry Campbell @ Your PF Pro writes The Cost of Being a Groomsman – A lot of the wedding related articles I read have to do with how the bride and groom can save money on this or that but not many of them talk about how much it's going to cost other people. I've been a groomsmen for one wedding and I'll be having 7 groomsmen at my wedding so I've been thinking a lot about the cost of being a groomsman. The first thing all of my groomsmen actually asked me though, was "Do I need to do anything?" And the truth is, it's really not that much work to be
Pauline @ Reach Financial Independence writes What would you do with $200,000? – What would you do with so much $$ if your only debt was a mortgage?
Pauline @ Make Money Your Way writes How to Set Rates for Your Side Hustle – Harry talks about how to set your freelance and side hustle rates when you get started working on your own.
JC @ Passive-Income-Pursuit writes Income Update – January 2014 – The key to successful household finances is simple. Spend less than you earn. I take a look back at the way money moved through my hands during January.
GenY @ Gen Y Finances writes Saving Money When Eating Out – If you are like me (or most of the population), then you probably like a good meal out every now and then. You can sit down, order your food, and it will be brought to you. Minimal work needs to be done by you (except for the actual driving part), which is nice!
Sicorra @ 724 Credit writes Life Without Having Credit Cards – Some people use credit cards everytime they make a purchase. Others may only use their credit cards for big ticket items. And some people never use a credit card. In fact some people do not even have a credit card in their name.
Out winter, be gone!